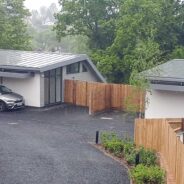 Two mirror-image houses in Tunbridge Wells – cladding to roofs with soffits and concealed gutters and some complicated work to beams at the...
read more »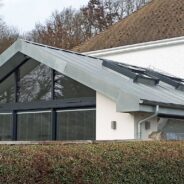 A single storey extension creating a garden room has zinc cladding to the roof and incorporates an integral "secret" gutter with soffit and fascia in zinc. "Thanks to you and the team for all the work. We get a lot of very positive comments from passers by." Peter Gross,...
read more »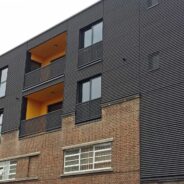 VM Sinewave panels are corrugated zinc, used for cladding. Have a look at our recent work in Hackney….
read more »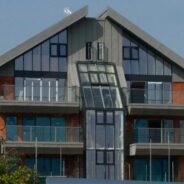 The oddly-named Koala on Eastbourne seafront is a development of an apartment block and a terrace of houses. The houses have their roofs clad in VM Pigmento Green zinc while the flats have roofing and cladding in VM Quartz. Any material in a coastal location is susceptible to build-up of air-borne salt if it can not be washed off by rain. Although this will not damage zinc it can be unsightly. VM Zinc have dealt with this problem by developing their Strat zinc – this has a smoother finish than the standard product and prevents the salt...
read more »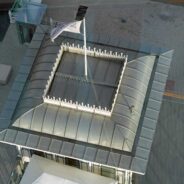 We are very pleased to be installing zinc roofs on the reconstructed tollbooths at British Airways i360 on Brighton seafront.
read more »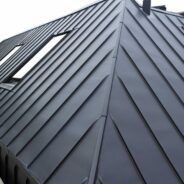 This project comprises a new-build house, constructed in the style of a traditional barn.
read more »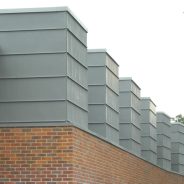 October 2015: We've finished working on this handsome development in Canterbury city centre.
read more »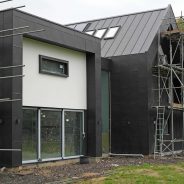 This large Canterbury house was clad with VM Anthra zinc. As we worked, the client was so pleased with the zinc that he added more to the spec.
read more »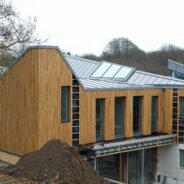 Complex zinc roof at Hadlow Down….
read more »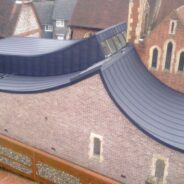 Prize-winning roof….
read more »